Rossi / ROSSI Speaks, inc.  919-931-2244
Speak2Me@RossiSpeaks.com / http://RossiSpeaks.com
No reproduction of this material is authorized without the expressed, written consent of ROSSI Speaks, inc
Things Just Don't Gotta Get Better
You Do!
by Rossi
I.    Attitude
A.     Attitude – not just positive and negative, it is all points between
1.     Are you A) motivating or B) de-motivating?
There is no C – And why we ask this question.
2.     What is the value of Attitude?
"Regret is a darkroom where we develop our Negatives."
B.     Optimism – Pessimism
1.     Nature / Nurture
2.     Take the Learned Optimism test by Dr. Martin Seligman
Clients/Customers are in strong need of Optimism
II.   NAR Consumer Survey Results
Here's Where YOU Get Better
120,000 Consumers who purchased or sold between June '08 – June '09
77% of the time they used an agent
Resale property – 81%
New Home – 57%
FSBO – 5% (down 1% from previous year)
Foreclosure Trustee – 10% largest percentage ever
Why did they use an agent?

Finding the right home
This is a combination of skill and patience – Skill in knowing how to ask questions to assist purchasers in uncovering exactly what they:
a.       Want
b.       Need
c.       Desire
d.       and can Financially Afford
3.      Negotiating Price and Terms
As determined by Financial Qualification
4.      Completing the Paperwork and managing the sale to closing.
How Buyers Found Their Agent
All Buyers 44% referred by Friend, Relative, or Neighbor
First Time Buyers 50% referred by Friend, Relative, or Neighbor
Repeat Buyers – Only 17% used same agent they previously      used
Break down of how others found their agent
Only 10% of buyers found their agent using the Internet
6% found agent at open house
4% employer or relocation company
4% company/walk-ins
3% by phone or e-mail
1% by Newspapers, Yellow Pages, or Homes Magazines
0% from Direct Mail, Newsletters, Postcards, or Specialty Items; like calendars or magnets!
Most interviewed one agent before they made a choice
Factors for Agent selection in order of importance:

Friend or Family member
Honesty
Reputation
Knowledge of the Neighborhood
Listening Skills
Firm Association

When asked if they would recommend the agent they used:
66% Definitely
22% Probably
That's a score of 88% – Never in the history of NAR has this figure exceeded 43%!
III.  Marketing
A.Understanding the Evolution of the Real Estate Consumer
3 Stages of Evolution that will allow us to project a TREND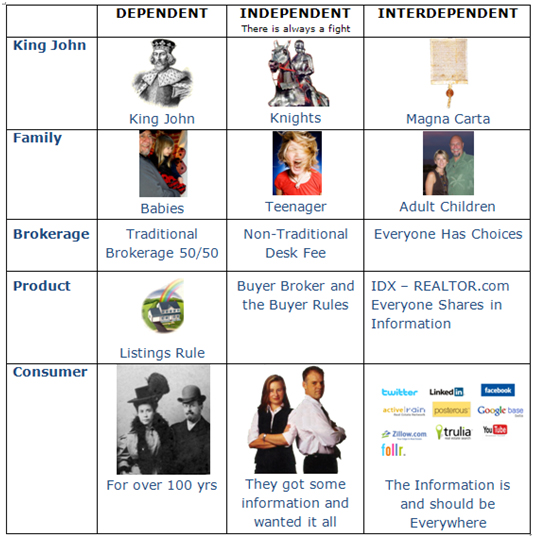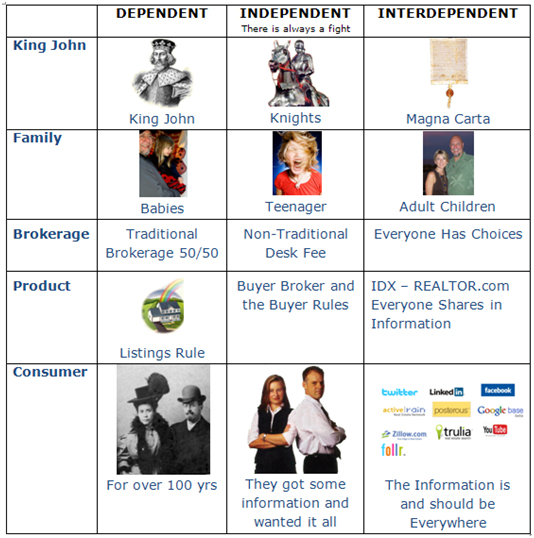 http://www.rossispeaks.com/archives/64 the complete story
B.     Today's 95% Rule
1.     LOOK
a.     From 1 to 2 years before they ever think to buy or sell a home.
b.     Once ready, they look for 1 to 2 weeks before they select an Agent.
c.      That's correct – Houses first – Agents 2nd
2.     HOOK
a.     How do they select YOU?
Photo                        NO
Age                           NO
Designations               NO
Years in Real Estate     NO
Pretty Web Site           NO
Track Record              NO
Informative Site          YES
Your Company            YES
EMOTION                   YES
b.     100% of ALL Purchasing is EMOTIONAL!
3.     COOK
This is where they (buyers and sellers) are stimulated to contact you and give you their loyalty.
C.     Marketing is Everything
Your Website is a BILLBOARD in the middle of NOWHERE to which you drive traffic.
http://DogEatDogandViceVersa.com         HOW?
BRANDING
NEVER AGAIN PROSPECT
Practice Lead Generation Activities
The Thrill of a 1099 Income
Me Too
IV.  Technology
A.      Smart Phone – Dumb User
Not a request – it's a necessity
B.     Contact Management System
1.     Which is the best one?
The one you use…
2.     What goes in it?
Family
Organization
Recreation
Dreams
C.     Social Media is a Place – not a Destination
Strict Do's and Don'ts
Don't Sell
Don't Market
Don't Brag or EGO Push
Remember, anything you put on the Internet can, and will, be used against you.
Never Flame!
If you are saying something for someone's own good, it's probably better left unsaid.
D.     3rd Level Domains
How to use the FREE space WWW
Complete how to at http://www.rossispeaks.com/archives/8527
E.     Places you MUST BE
E.     VIDEO
All of your listing MUST be on YouTube and demonstrate EMOTION
http://www.rossispeaks.com/archives/1098
F.      Marketing is a Generational Thing
____Every____ Generation that is
G.     What's Hot vs. What's Working
1.            Business 2 Business (REALTOR/REALTOR Email)
http://eCampaignPro.RossiSpeaks.com
2.             Short Codes (text Rossi to 82257)
http://ProTexting.RossiSpeaks.com
3.             Postcard campaigns
http://Postcards.RossiSpeaks.com
4.             Listing Syndication
Rossi / ROSSI Speaks, inc.
919-931-2244
Speak2Me@RossiSpeaks.com / http://RossiSpeaks.com
No reproduction of this material is authorized without the expressed, written consent of ROSSI Speaks, inc