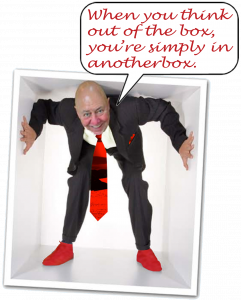 Everyone talks about change but only ROSSI changes the talk – ROSSI, Globally Recognized 'Edutainer', does his Key Note Presentations with Future Paced, Speed Learning.
·      Master Neuro Linguistics Practitioner
·      Author of 'best selling' Dog Eat Dog & Vice Versa – 9    Secrets To Put The Bite In Your Marketing
·      Emotional Intelligence Architect 
·      Organizational Enactment Specialist
·      Psychometrics/Psychographics Trend Predictor  
His Echo-Listening and Augmentor style cuts through stoic rhetoric to bring awareness and build client success.
"I'm never satisfied with what is… I continually update everything at the speed of information because change is the only thing in life that's constant."
What's in it for YOU? He is! People don't buy what you do, they buy WHY you do it.
Current Presentations:  
The Honeymoon is Never Over Real

Selling Your Home For The Highest Dollar

BlockChain; A Real Estate Recreation
·      How To Speak For A Living
       Real Estate IS Big Data
·      Life is a Collaborative Effort
·      Building and Maintaining Personal Goals
·      Compelling Consumer Experience
·      Consumer Evolution
·      Ethics Energy & Efficacious Behavior
·      Humanity of Sales
·      Creating the Emotional Video
·      Improvisational Customer Service
Rossi, REALTOR Emeritus, lists and sells real estate in Raleigh, NC with "The Bishop", his wife of 41 years. They are brokers with Northside Realty Inc. 


Book Price $15 including shipping US only
                     

Call 919-931-2244 to place order.
                                                     Mon – Fri 8 to 5 EST (thank you)
No longer available on AMAZON as it cost use -$8.27 to sell thru them. 
*Book available for shipment to the U.S. only at this time. Orders shipped to North Carolina will incur a 7% state sales tax. Contact Rossi for more information, including questions about international pricing and shipping.