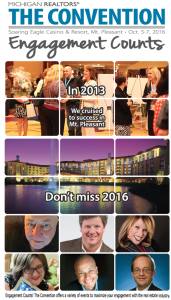 Michigan REALTORS' Convention 2016
ROSSI Speaks Stars
Don't miss ROSSI's business altering events!
Everyone talks about change but only ROSSI changes the talk – ROSSI, Globally Recognized 'Edutainer', does with his Future Paced, Speed Learning, Tech Supported 'No PowerPoint – No Handout Classes in the ROUND.' A published author, he's spoken in every US State, Belize, Singapore, Prague, and the Netherlands and demand for his appearances grows. Recently quoted regarding his success, "I'm never satisfied with what is… I continually update everything at the speed of information because change is the only thing in life that's constant."
What's in it for YOU? He is! People don't buy what you do, they buy WHY you do it. And YOU are his WHY.