Use the 'www' FREE Space to Make a 3rd Level Domain
Creation of a 3rd Level Domain
1st or Primary Domain is:
.com – .org – .edu – .net
2nd Level Domain is the RossiSpeaks before the .com:
RossiSpeaks.com
3rd Level Domain is the www:
http://WWW.RossiSpeaks.com
http://FREE.RossiSpeaks.com
Only if you own your own domain – it's a FREE for your use space!
http://expresscopy.RossiSpeaks.com
http://SocialMedia.RossiSpeaks.com
http://PutWhatEverYouWantHere.RossiSpeaks.com
Here is how it is done. Once you own your domain, go to your web host's page, and then to your 'Domain Manager' page. This is mine. I use http://InternetCrusade.com for my web host.
Your domain manager will open to a page that will offer '3rd level' pointer sites that look similar to this: (If you cannot find this page, ask your web host.)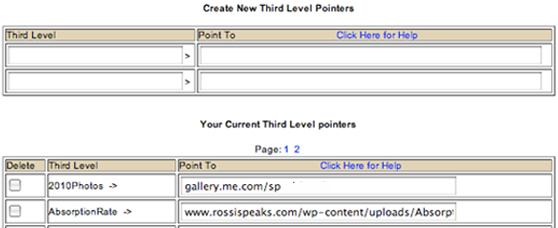 Type the 3rd level you want, including the http:// (NO WWW)
Next, locate the property you want to point to on your, your company's, your MLS (be sure to abide by your MLS rules), or REALTOR.com – it will look something like this:
Click on and Highlight the Address bar and you'll get a pull down menu, select Copy from the pull down menu.
Now return to you web manager and your 3rd level entry. Place your cursor in the Point To box, right mouse click and select Paste.

You've now said when http://1408Bascomb.RossiSpeaks.com is typed into a computer's address bar it will Point directly to the listing page, wherever it is. Congratulations!