Rossi's Wood Oven Turkey Extraordinaire
Cooking a 22-pound fresh turkey in a wood oven is an EVENT.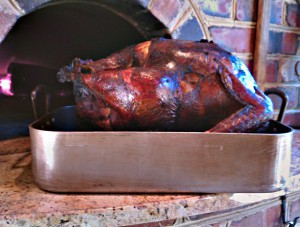 First you need a big enough oven, which thankfully we have, located on our screened porch just off the kitchen.
We had the porch built in 2003. The 'Wood Fire Bake Oven' is a kit you get from Rumford, the fireplace people. It has a 5' footprint and is complicated to build and use. But well worth it!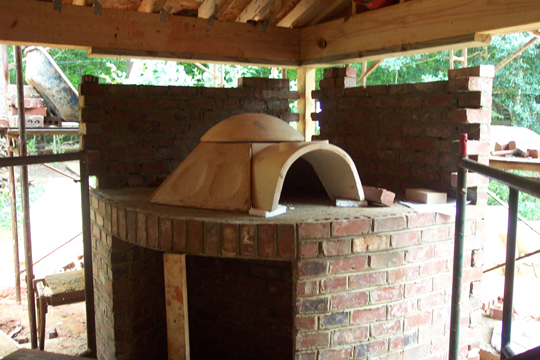 Here is a photo of it under construction.
I use cherry wood almost exclusively because it burns hot and adds flavor without a heavy, smoky taste.
Yes, it cooks pizza, but that's usually the last thing I cook. You name it, I've cooked it in this oven. The first thing I cooked was biscuits for Scott and Nancy Case. Disaster, they were hockey pucks! Seems it was a little hotter than I thought. Yup, big learning curve.
Now, for the turkey, which I've perfected. I start by brining it for 24 hours in a container with water to cover leaving lots of room for ice. I then add Kosher salt, orange juice, orange slices, sugar, tea from about 30 tea bags, apple cider vinegar, and a bottle of dry white wine. Pack with ice and cover tightly.
The day of cooking, I rinse the turkey thoroughly, pat excess liquid off, and leave vertical to air-dry.
Magic Mixture – In a VitaMix (food processor will do), I puree pecans (tried almonds & pistachios – pecans are best), with a whole orange or tangerines or cumquats (I prefer the cumquats in the volume of a whole orange) cut in pieces, fresh rosemary, marjoram, Pink Sea salt (careful it's very pungent), Grand Marnier, and frozen high quality bacon cut in chunks. And NM Red Chile powder, puree until smooth.
When the turkey is dry use your hands to separate as much skin from the meat as possible being careful not to tear or rip. Do this completely around the turkey. Oh, the plastic temperature indicator in the bird – throw it away, they don't work.
Now as you can see in this photo, I use my hands to push the 'Magic Mixture' into the space between the skin and meat, with some help from my Daughter Romni. But I just learned a trick from watching Mario Batali that is to use a large Ziploc bag with the corner cut off as a piping bag to pipe the mixture in.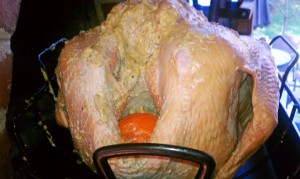 I pierce oranges and place them in the cavity for a delicious orange sauna.
Using a large roasting pan with a rack, set the bird breast side down and place in a hot Brick Oven. I can measure the temperature of the floor, the walls, and the fire but, as of yet, I've not found a gauge to measure the actual oven temp.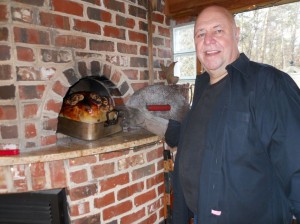 When the skin is browned and crackling, cover with a tent of foil and continue to cook. About 40 minutes total. Then flip the bird, yes I said flip the bird, and place it uncovered in the oven. When skin is browned and crackling, cover with a tent of foil, add 2 cups of water to pan and continue cooking. About 1 hour 45 minutes or until meat thermometer reads 150 degrees at thighbone and juices run clear. Remove and let rest for 45 minutes.
A Masterpiece!
Some turkey critiques:
Bishop – "OMG, I didn't think it was possible to be better than the last one!"
Alysa – Said nothing but had TWO helpings!
Romni – "Great turkey Dad, I think this is your best ever!"
Greg – "Oh Wow!" Couldn't count how many helpings he had.
Mia – "Let's play some games."
Taylor – "Mmmmmm! And the potatoes are wonderful!"
Mike – "See Michele, that's what I'm talking about! Great!"
Michele – "Can I have the recipe?"
Adel – "Can I come back next year?"
Bruce – Went back for seconds before we could say the blessing.
Gayle – "Always the BEST!"
Jill – "Best turkey I've ever had!"
Tom – "Me too, and he had sharp knives!"
Sarah – "Sooooo Goooood! Thanks Papa!"
Kylie – "More please!"
Joey – "Are we ready for dessert?"
Moira – "I've been smelling the fire for days. It was worth the wait!"
Julian – "Excellent!"
Caitlin – "More please."