Real Estate's NEXT Step – Think Retail
In 2001, Jeffrey Peldon, CreSenda Marketing Director said, "Real estate is an impulse buy," as it relates to the plethora of real estate information now available to the consumer via the Internet. In my 2003 presentation for the annual sales rally of Centex Homes to their new homes sales consultants in Las Vegas, I repeated his quote to wild acclaim.
Yes, prior to the 'pop' – with information everywhere, money for the asking, and a market that seemed it would never top, the impulse grew.
Now with an apparent recovery of the housing market, we must once again pay attention to consumer impulse. Although cautiously optimistic, the impulse again burns.
What Activates The 'Impulse To Buy' Emotion?
First the Media, market information is blasted at the consumer 24/7 from all directions. When negativity prevails, the impulse is deactivated but when good news leaks into the picture…it's like a Bunsen burner on a corked test tube!
Emotions Explode!
"All purchasing is emotional." Consumers' emotion has been held in restraint by the media and economic gloom. People want to move, need to move, and gotta move! There is a huge supply of emotional first time buyers in the gate and the call to post bugle has been blown.
And They're Off!
Are you ready? I don't think so.
Two Words
Think – Retail! What? As a real estate practitioner, we've done a bit of retail thinking. As in we understand 'Curb Appeal' and have made it part of our marketing plan for the last 30 years. You know? Paint the house, do the yard, close the garage door, even light it up.
And too, Staging has been the buzzword for the last 12 years. That is interior clean, fresh, and de-clutter. But more… decorate, vignettes, colorized, and in general, set the stage for a suspect purchaser. All well and good but we have to take it to a whole other level.
Staging to Merchandising!   
That's correct merchandise like a retail store! Aka, Think Retail! My daughter, Alysa, was in the Visual Department of Chico's. Talk about merchandising. This publically traded company is at the top of their game as they are consumercentric.
Once Consumercentric Now Compelling Consumer Experience
It's the consumer that's top of mind, not the property. Start by identifying who will buy the property. Common since will tell you that you don't highlight stairs to the aging 'baby boomer'. So wake up! There's no bullseye in target marketing, just hit the target.
Dare to Be Unique
Don't do what everyone else does. In my book, Dog Eat Dog & Vice Versa, I devote a whole chapter to Dare to Be Unique. In the above video, I use the Apple Store as an example. What's unique? They offer FREE computer consulting for one. Another is, they stroke their employees by calling them Geniuses!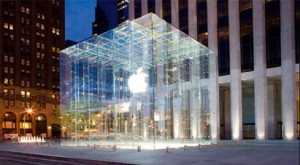 Excitement in the Air
Active displays, colors, video screens, music, and transparency collectively trigger inner emotions in all ages and buying groups. The real estate industry is finally big on video.
ATTENTION
Emotion is triggered as much by relationship, as anything else! As one schooled in relationships (Master NLP Practitioner), proficient in relationships (joyfully married for over 37 years – just ask my wife Bishop@RossiSpeaks.com), and mentor of relationship building, I know the three keys to building and maintaining of solid relationships: Attention – Attention – Attention!
The Apple Store and Chico's
The minute you walk in, it's not… "Can I help you." It's, "Welcome, I'm here for you. Tell me what you need?" And all of this energy is repeated on their website.
So Here Is What We Know
The overabundance of real estate information on the Internet means our industry had to evolve. View Video and Read Study of the Evolution of the Real Estate Consumer. REALTORS are no longer the purveyors of real estate information, Consumers have it ALL. Their driving force to buy is no longer 'the salesman'.
We No Longer SELL Real Estate!
See the Power of Non-Selling. "We manage the perception of those who buy and sell real estate."
Refreshed Demand
Currently, there is a huge pent-up demand for housing! Purchasing a home is an impulse buy! And Emotion triggers the impulse! So what do we do to insure that? REALTOR MAG
THINK RETAIL
Marketing is not enough, we must MERCHANDISE! Make the whole home buying process a unique, wonderful, and satisfying experience!
It's not service – it's ATTENTION! So pay attention to national retailers like Apple and Chico's and power your real estate business. Especially Think Retail about your Resale!
To contact ROSSI about his from the trenches, leading edge presentations – in the No-PowerPoint Zone in the ROUND. Call him at:
919-931-2222
email him at:
Tweet him at:
@RossiSpeaks
Friend him at:
Rossi Speaks
View him at: Rossi's YouTube Channel