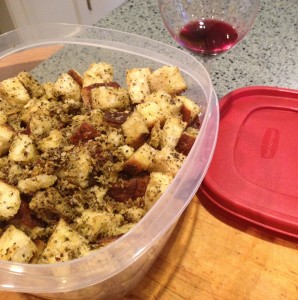 CruIT – Pop Croûte – Wine Snack
1 Large Loaf of crusty white bread or 2 baguettes – cut into ¾ inch cubes
In a Large bowl, combine…
¾ cup Extra Virgin Olive Oil
3 Tbs Granulated Garlic
2 Tps Sea Salt
3 Tbs Dried Basil
2 Tbs Dried Marjoram
1 Tps Ghost Pepper Salt
1 Tbs 6 Pepper Ranch Shake (my own creation or 6 dried peppers, no habanero) or Red Pepper Flakes
*Adjust spices for personal taste
Add bread cubes, toss until saturated, let sit for 10 minutes, toss again. Do this several times until EVOO is absorbed.
Place on broiler pan rack in 250 degree oven for two hours. Turn oven off and leave in for four more hours. Store in airtight container.
Can be used for croutons but best eaten like popcorn with wine.