Creating the Compelling Consumer Experience
This is a brief history of my sales career –
Over 50 years of fails, triumphs, and incredible
growth in knowledge.
Keep Smiling
Rossi
Review –
"I finally got a chance to watch the whiteboard and my response is BRAVO! BRAVO! BRAVO! The visuals were only out done by the beautiful, eloquent, thoughtful dialogue that you have created over many years. Way to go my friend. If I was asked to think of another word to describe your labor of love it would…efficacious."  – Kyle Nuckolls, Emmy Award Winning Videographer 
"Watched the white board 6 min Power or Non-Selling. In 6 mins I pull in more info from you as opposed to an hour from others not as well read. I sit here and think Rossi stays on the edge of all information coming moreover Rossi knows how to apply the learning to daily living. Patrick Crawford, Real Estate, Broker Raleigh North Carolina 
The GREATEST way to LEARN is to use all FIVE SENSES! I wish that I could include taste and smell in white board learning experience – soon technology might make it available.
However, in this video I'll move you in a way that you not only hear my words but you see them created before you. I have a goal to take much of the best up-to-date information, knowledge, and thoughts and gift them to you so you may improve your life as they have improved mine.
This was my first white board experience and it was a HUGE learning curve. This 6 + minute video took me 7 days, approximately 38.5 hours to create. I know that's a lot of time. But I never do things in a small way.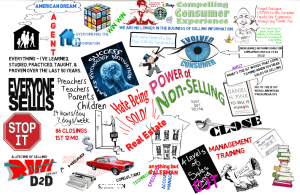 I first had to learn this fantastic software from Sparkol. Next, write the script. I then began the drawings to match the script. I know there is no such thing as perfect and I do not strive for perfection. Instead, I strive for excellence.
I hope you enjoy it. Please let me know if you want more of the White Board Lessons from ROSSI Speaks.
Ladies and Gentlemen, Boys and Girls – This is Where Education is Going to Be! It was Wayne Gretzky who said the following.

To Start Your Compelling Real Estate Consumer Experience
CLICK HERE