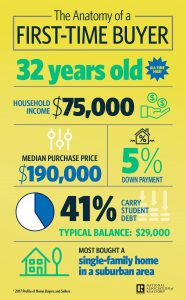 This means that a 1st time buyer in Raleigh, NC has little chance of buying a home. With interest rates remaining at a 45 year low and an income of $75,000, first time buyers still struggle to find a home.
BUT WAIT!
Sure, there are homes for under $200,000 in Raleigh and the surrounding area, but darn few. And if you want one and you see one, you better buy it NOW.
Here's the problem, and it's the same problem we've had since I came into this profession in 1971, buyers want a $400,000 house for $200,000. And they want it new!
Good NEWS There Are Several!
No, it's not a $400,000 home for under $200,000, but it's NEW and under $200,000. Are you Ready to Buy the Best Christmas Gift You'll EVER Give Yourself or Your Family?
CALL or TEXT ME –
I'll walk you through the steps to make it happen then show YOU ALL that FIT You and Your Needs. Plus make sure you get yours before Christmas. 919-931-2222
Don't believe me –
Here's an app where you can look for yourself at EVERYTHING in the MLS, not stale Zillow or REALTOR.co (not owned by REALTORS)
ROSSI a full time Real Estate Broker working with his Wife of 37 years, the Bishop, also a full time Real Estate Broker, both with Nina Parker Realty Group. We Create Compelling Consumer Experiences, the kind you'll tell all your friends about.