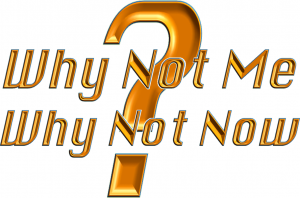 Click Above for the Video Promo
By ROSSI Speaks – Edutainer
Successfully immersed in every facet of real estate for over 40 years, including the instruction of CRS, GRI, ePRO, and speaking 26 consecutive years at the NAR Convention, I've discovered that there really is only one question that everyone wants the quick answer to, "Why Not Me – Why Not Now?"
I'm just like you! Impatient! I want answers at the touch of a SCREEN. To sit in a class is a pain in the … Nothing bores me more than listening to some 'expert' droll on and on. And watching someone read their slides – Forgetaboutit!
My promise as an Edutainer is to pack 4 Hours of Usable Intelligence into a 90 minute – No 'PowerPoint' Zone (BYOT – Bring Your Own Tech) – Set in the Round – Transparent Discussion. I will rapidly define and fire off SOLUTIONS to the TOP 10 REASONS WHY it's Not You, Not Now! – Caution – one or all may apply.
"Can you be uncomfortable? Laugh at yourself? Handle the TRUTH? Good, because my goal is to make a difference!" Show up early, the room will be packed.
Others say, "You are greater than even you know – you make a difference in every life you touch! Each minute spent with you is a learning and loving experience!" Ellen Fahr | Top Associate | Berkshire Hathaway HomeService Nevada Properties, Las Vegas, NV
"When I first met, you, Rossi, I said you were the best instructor I had ever had in my 18 years in Real Estate. 10 years later, you're even better!!" Mark F. Kamps | President ICAAR | Broker Owner, Coldwell Banker Real Estate Professionals