We are blessed with two responsible adult children. Often when complimented on how well they turned out, we are asked what we did to help create that. Our story is long and involved, like any family today. However I believe I can boil it down to the following bullet points.
Model Self Love
Model Everything You Ask Your Children To Do
You Cannot Teach Responsibility – Must Give It
Remove "Try" from Our Language
Excuses Are Tools of the Helpless – Refuse to Use Them
Pickup After Yourself
          because it will turn to dust before we will
If You Can Reach – You Can Do It
          washer/dryer etc
Make Your Bed When You Get Up
The Sink is Not a Dish Holder
          It Will Not Empty Itself
Everyone Cooks to Eat
The Nest is Only Good for 19 Years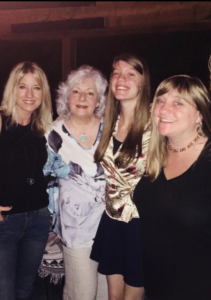 Alysa
Bobbi
Mia
           (Romni's Daughter)
Romni
We could not be more Proud!