These photo's are not of cars I've owned only represent cars I've owned.
In 1956 (I was 13) my dad bought a wrecked 1954 Star Chief Catalina Custom, Straight 8, Hydromatic Transmission, leather interior. It was the cream of the Pontiac line in '54. It had front and rear collision damage and we worked on it part time for 5 months and dad sold it. I never even got to drive it.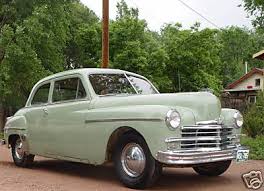 My 1st Car, 1949 Plymouth with Fluid Drive. More on Fluid Drive 
It was the summer I turned 15 (in NM you could get your drivers permit at 14 1/2. Dad drove it home and told me I could buy it for $50 if I also paid for insurance and upkeep. I jumped at it. It was slow and clunky, but it got me from point A to Z. Cool Factor – I had a car before I was 15.
About 6 months later, ur neighbors daughter had a birthday and he offered to buy it from me for $100. Double my money SOLD. That evening when I told dad what I had done, he said, "Good, I'll sell you Mom's car for $100."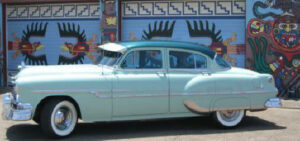 Mom's car was an ugly lil'old lady's car. Two tone Green, four door, hydromatic transmission, straight 8 clunker with a sun visor 1954 Pontiac. I told dad I was thinking of something different and need to shop around. Well… I got the people in hell are thinking of ice, lecture and was told this will last you until college. Cool Factor – Less than none
But 5 months later while getting a tire fixed at Chief Pontiac I saw they took a sweet 53 Pontiac Star Chef in on trade. No sun visor and low millage. I asked dad and he said that's a $250 car. SOLD, I said, My yard mowing business was booming and I got a $100 for the other 54. Cool Factor – still lacking.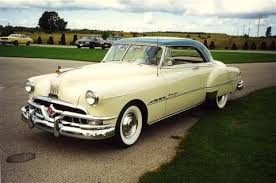 This was a sweet little car, 1952 Catalina 2 door hard top, top of the line with hand stitch two toned leather interior – Straight 8, automatic transmission. It was one of several cars owned by little old ladies that I bough from Chief Pontiac. But this is one I wish I still had. Very few were made by Pontiac. The interior really made it nice. Cool Factor – Still not much, but I liked it.
But… Now a sophomore in high school… MORE POWER, got this 1955 Pontiac Chieftain, three on the tree (3 speed stick shift), 2 door. Cool Factor – I painted a Beatnik figure with the words "The Wanderer" above the taillight on both rear quarter panels. Rear seat speaker, and bongo drums in the rear window with my girlfriends name on the skins.
Got ticked for drag racing which doubled my insurance cost and I flunked Chemistry so dad had me sell the Wanderer.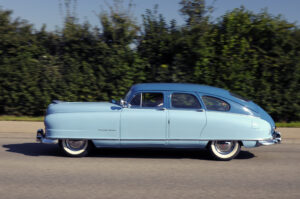 1950 Nash Ambassador Owned by a friend of Dad's. They gave him nothing for a trade-in and I bought it for $1.17. I was a Jr. in High School and it was not a chick magnet.       Cool Factor – pull down shades on all the windows the seat made a full bed and there was a chrome roll top that closed off the dash so you wouldn't bang your feet on the knobs.
One day on my way to work the car came to a screeching halt as the clutch flywheel froze solid. Sold it to a guy name Zook who owned 4 like it for $200.
Now starting a business cleaning garages, basements, and attics I needed something to haul stuff in. Found another trade in , a 1954 Pontiac Special Custom Wagon. It was 1958 and I was a Jr. in High School. No Wagons were not Cool Factor they are now. But I, and a friend were beginning to comb  small town N. NM and S. Colorado for Junque to sell to antique dealers. Load of miles put on this baby with never a falter.