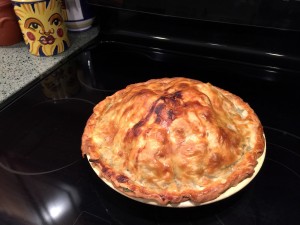 GHOST PIE
THIS MAY BE THE BEST THING I'VE EVER MADE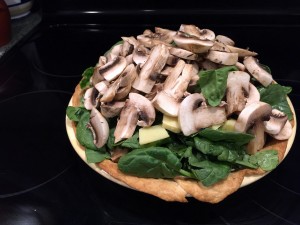 Slave over a piecrust baked bottom – Bishop did that, wow I'm impressed – she knows I hate soggy crust.
Next, fill it with a pound of sliced mushrooms, a layer of Mozzarella cheese, beat 1 egg with a little cream and pour over filling, layer fresh baby spinach (get off the I don't do green, you know who you are), a layer of sharp cheddar cheese, and the balance of the mushrooms – top with thin sliced Swiss cheese (not pictured).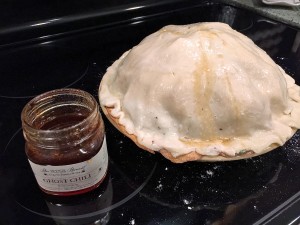 Cover with a large rolled pastry and seal the edges. Paint with beaten egg and a splash of water. Pierce the center, little finger size, and pour in ½ tsp of Ghost Pepper Honey (Madison sells it in Nashville, TN, it's in the photo). Bee In Your Bonnet
Bake 425 degrees for 45 min. Watch it, I don't know your oven.