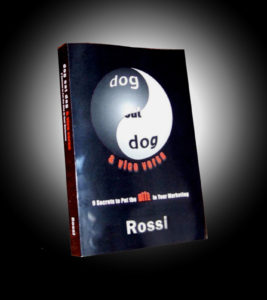 VP of Marketing and Communications, Apptis, Kim Roman says:
The stories and examples within Dog Eat Dog & Vice Versa provide information for anyone who wants to learn about marketing. As a professional who has been in this field for over 25 years, I am impressed with the depth of knowledge and understanding of the field that Rossi offers. This is a must read for anyone who wants to take their business to the next level.
The big dogs of industry spend billions of dollars on advertising and marketing, and most of it gets funneled through ad agencies.
Ad agencies have 9 Secrets that generate big results for their clients – 9 vital things they don't want to share with you that aren't taught in any marketing classes. Now these secrets can be yours. The 9 Secrets are revealed in this book. You'll get an insider's view of what works and what doesn't when it comes to marketing in today's marketplace.
Instead of relying on the ancient wisdom still being taught as modern marketing techniques – old sales tactics and flimflam methods from the early 1900s – this book offers you ways to STOP IT and move into the 21st Century.
Use the 9 Secrets to grow your market and increase your business's bottom line – no matter what size organization you run.
Order Dog Eat Dog & Vice Versa: 9 Secrets to Put the Bite Into Your Marketing now!
I no longer sell my book on Amazon. Love Amazon, use it all the time, but. When I sell on Amazon, they order from me and I must ship to the Priority,
Book Price: $10.00 (U.S.)*
Shipping and Handling: $7.35 Priority Mail
What You'll Find Inside:
Chapter 1: Do It Now!
Chapter 2: People Don't Read!
Chapter 3: A Picture Is Worth a Thousand Bucks!
Chapter 4: No One Wants to Be Sold!
Chapter 5: YADA YADA DATA
Chapter 6: A Two Word Solution to Marketing
Chapter 7: Marketing Is a Contact Sport
Chapter 8: There's No Bull's (Eye) In Target Marketing
Chapter 9: The High Flown Hype of Hyperspace
Chapter 10: Dare to be Unique
Chapter 11: It Doesn't Have to be Expensive to be Effective
Order Dog Eat Dog & Vice Versa: 9 Secrets to Put the Bite Into Your Marketing now!
Book Price: $10.00 (U.S.)*
Shipping and Handling: $7.35 priority mail
*Book available for shipment to the U.S. only at this time. Orders shipped to North Carolina will incur a 7% state sales tax. Contact Rossi for more information, including questions about international pricing and shipping.
REVIEWS:
Dog Eat Dog & Vice Versa is a brilliant guide to marketing in the 21st Century. With humor and aplomb, Rossi unlocks the secrets to making your business soar. If you're a business owner who wants to drive profits through your marketing efforts, this book is your road map to success.
— Bernice Ross, CEO of RealEstateCoach.com and author of Waging War on Real Estate's Discounters
I've known and worked with Rossi for over 20 years. His creativity is legendary. Read this book. It's something you can sink your teeth into!
— John (JC) Clements, Executive VP, CBS Outdoor Real Estate/Acquisitions
Rossi is a true genius. His insights and wisdom should be required reading for anyone who wants to take their life to the highest place possible.
— Gary Keller, co-author of the national bestsellers, The Millionaire Real Estate Agent and The Millionaire Real Estate Investor
Dog Eat Dog & Vice Versa. . . is Rossi in print! It's a fun "read" full of practical advice. The memories flowed as I read the personal experiences that Rossi weaves into his examples. I can recall hiding when the doorbell rang when there a was door-to-door sales rep on the front steps! Rossi correlates real life situations with powerful suggestions. I'll use Rossi's tips, and will refer to them often!
— Shelley Fowler
I have watched ROSSI work his magic thru his ASPIRE Coaching program, both personally and with my 35 Sales Associates. ROSSI ASPIREs us all to achieve balance in our personal and business life. He has a way of getting the best out of all of us. As he will you through the pages in this book. By applying both his philosophy and "Do It Now" marketing action, he is largely responsible for our leap from $14 Million to $90 million in gross sales. Thanks, ROSSI you are the BEST!
— R. Scott Case, CRB, CRS, Mel Foster Company, Quad Cities, Iowa
Rossi hit the ground running and made more money in the first six months on the job than any salesman I had ever previously hired. Rossi is a natural born salesman, educator, motivator, coach, and storyteller. He looks at marketing differently than any other writer I've read. Rossi speaks truthfully about what others avoid. Any business owner who applies his 9 Secrets to their marketing will achieve success.
— Doyle D. Pargin, CRB, Broker
Dog Eat Dog & Vice Versa is a must read, keep it close at hand as it is an excellent advisor to businesses, both large and small. This book springs forward to bite as no other book of its kind — and told only as Rossi could tell it! Dog Eat Dog & Vice Versa has become a permanent addition to my reference library.
— F. Dick Matthews, Jr., Business Consultant
Just finished Dog Eat Dog & Vice Versa, and want others to know the marketing ideas contained in your great book will not only benefit small businesses but also increase the fundraising efficacy of nonprofit organizations.
— George Fox, President, Compassion and Choices Hawaii[/fusion_builder_column][/fusion_builder_row][/fusion_builder_container]