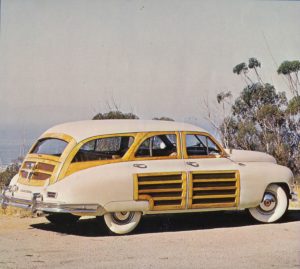 In 1972, I was a real estate agent with Doyle Pargin Realty in Albuquerque, NM at a listing appointment of a 40 year old adobe home on Guadalupe Trail, which I sold for list price 5 weeks later. The seller had rented the house, now vacant, for the last several years after moving to California.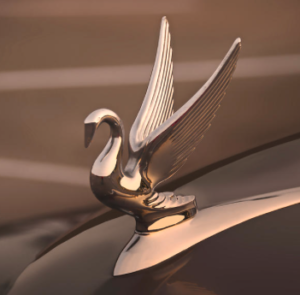 I had finished my outside measurements of the house and was moving to the detached garage.  A quick glance in the window left me awestruck. I could see a hood ornament I recognized as a Packard, one most people call a Swan but it's actually a Cormorant (a duck).
I asked the owner if he would please unlock and open the garage. As the door rose, the choir in my head rejoiced, and the flawless 1948 Packard Woody appeared. My heart stopped. "Packard", I said weakly. "Yes, it's been there since 1964, all prepped for storage and on blocks." He continued, "When I bought my Chevy," pointing to his 1964 Chevy Biscayne Wagon, "I attempted to trade it in and they would only give me $275, so I kept it."
"Well, you're selling the house, do you want to sell the car?" half expecting him to say, you wish. "Yes, I have a guy that will give me $300 for it," he replied. "I'll give you $350." "Sold" he said. My knees became weak.
He took my check and I called HB Woody Woods for help. 45 minutes later Woody showed up in his 1958 Bentley with a new battery and an air compressor. We filled the tires, let it off the blocks, and rolled it out of the garage, checked all the fluids, and  put in the battery. The seller appeared with plates, keys, owner's manual, and title.
Woody said, "Giver her a crank Rossi!" I said a little prayer and turned the key. After 4 cranks of the big 288 cubic inch straight eight, she came to life. This 24 year old American Luxury Country Estate Wagon with 60,468 miles was once again ready for the road.
The seller told us of how, in 1948, he ordered the car from the local dealer in Desert Sand – it arrived in Dark Green. The dealer made a valiant attempt to get him to accept it, but he felt the color was too dark for the hot Albuquerque sun. Nationally the inventory was low and the factory was no longer tooled to make this car. He put his foot down and said, "I ordered Desert Sand and that's what I want." The factory answered. If he was willing to drive the car back to Detroit, they would give it a factory repaint and pay his for his gas and lodging. He took them up on the offer.  He stayed in Detroit for a week before driving his 1948 'Desert Sand' Packard Senior Station Sedan back home to Albuquerque.
Looking over the car in an attempt to see signs of a factory repaint and… nothing. Not in the door frames, edges, tail gate, nothing that would say, 'repaint'. However, the seller lifted the hood and pointed to the cowl in front of the radiator in its original dark green color.
I drove it clocking about another 1435 miles on the odometer.
Here's why that's important. This March (2021) a 1948 Packard Woody Wagon came to Mecum Auto Auction. I knew it was the Packard I owned because under the hood there was the Dark Green paint. History, yes my story lives.