Snags

–

Snares

–

Strategies

of SOCIAL MEDIA
http://RossiSpeaks.com/Teton


To say that Social Media can be OVERWHELMING is an understatement.
IF ANYONE SAYS THEY KNOW EVERYTHING
ABOUT SOCIAL MEDIA… AND THEY DO!

Tomorrow they will be OBSOLETE!
NUMBERS OF SOCIAL MEDIA SITES OFF THE CHARTS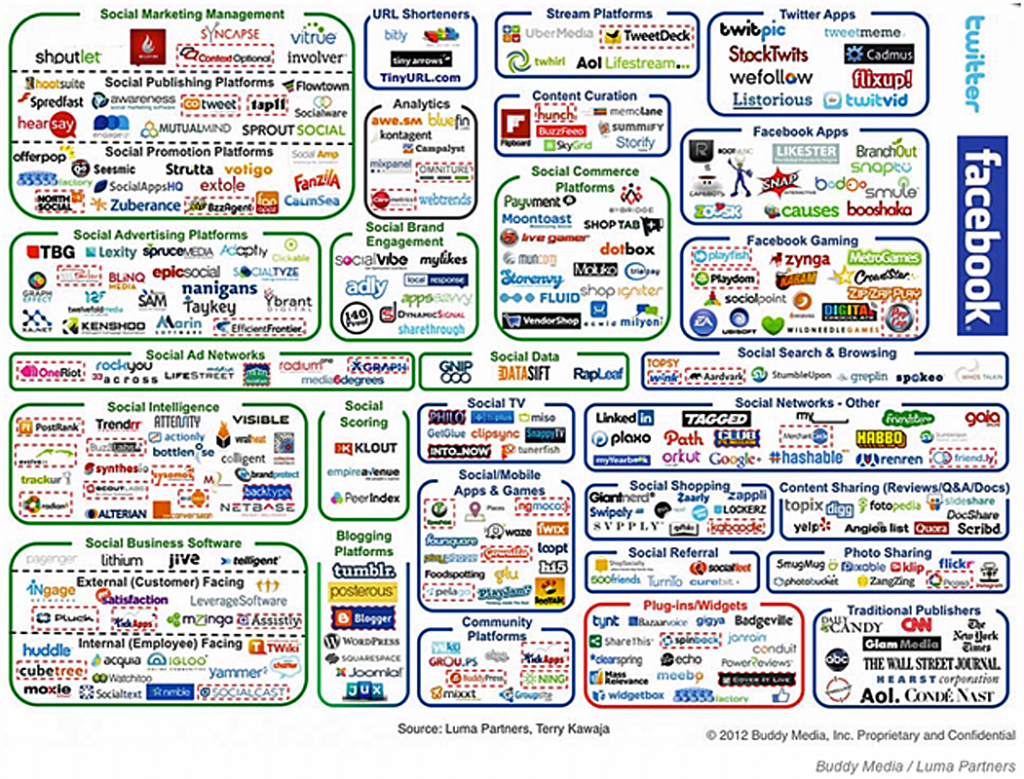 EVERYTHING MUST BE SMARTPHONE READY
There are more smartphones than toothbrushes in the world today.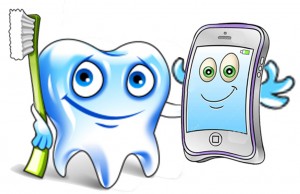 With global speed and connectivity, use of Smartphone Apps to access real estate information is growing exponentially.
Let's Start with A GREAT TAKE HOME! 
Everyone is teaching how to post for business. Today, you'll learn how to find business that's already there.
Simply Search All of Social Media for Business
"Buy a home in Jackson Hole" "Sell my Jackson Hole Property" "Need a good agent in Jackson Hole" "Thinking of moving to Jackson Hole" You search it! Everywhere on Social Media
I did and Got a Big Fat Zero…


518 million tweets per day
Every second, on average, around 6,000 tweets are tweeted on Twitter (visualize them here), which corresponds to over 360,000 tweets sent per minute, 518 million tweets per day and around 190 billion tweets per year. The chart below shows the number of tweets per day throughout Twitter's history:

April 1, 2016 – Social Media Rules of Engagement
Know and Respect Me
Delight Me at Every Turn
Be Responsive
            WHO TO FOLLOW?



W
ho You Follow

is as important as How Many Follow You!
1/3 – 2/3 Rule         Who You Follow/Who Follows You
Instagram  RossiSpeaks
FYI – Good news: 'GEO data' is stripped from Twitter
Instagram is now Bigger than Twitter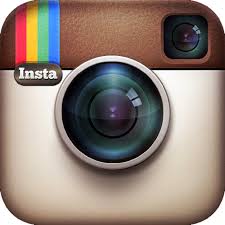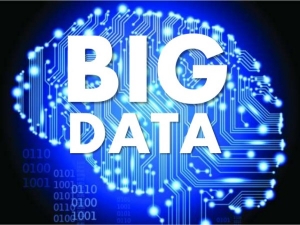 ProspectsPLUS has placed Master Marketing Magazine in your goodie bag. Article by ROSSI on Big Data
Look for these trends to come to Big Data analytics in 2016.
When it comes to Big Data trends, it seems that everyone has an opinion.  Want to see if your favorite aspect of this technology is on an upward trajectory?  It depends which report you read, which expert you ask, or which industry conference you attend.  Still, once you do the research, certain trends are definitely emerging.  What are they?
Big Data Trends for 2016 and Beyond
While no longer in its infancy, Big Data is still growing in its technology, its adoption, and its usefulness.  With that in mind, let's look at some fairly universal trends that we can expect to see in Big Data over the next year:
Watching the speedy evolution of Big Data and its related technologies is exciting.  What will 2016 bring? We're all waiting to see!  Check in with the Absolutdata blog and we'll keep you up-to-date with the world of data analytics.
Authored by Titir Pal, Director – Analytics at Absolutdata
Every email, message, or social media posting or offering:
"How to make money on Social Media,"
such as…
10 quick tips to get rich on Social Media

The secret to Social Media

Fast income on Social Media etc…

Make a Fortune Using PERISCOPE
Make
Money

SELLING YOU – Books, Links,
Programs, & Coaching Sessions on


"

HOW TO MAKE MONEY ON Social Media!"
              GET IT!
The most $'s made off Social Media
is selling "How to make money on
Social Media"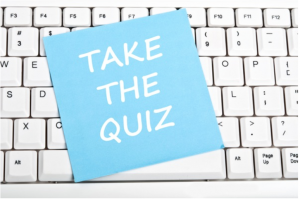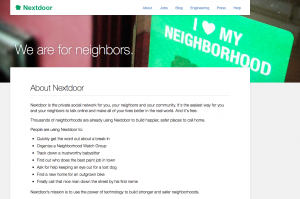 NEXT – 'REALTOR.org'
To access this, you'll need your member number and password to sign in.
      COMPLIANCE
3rd Party Social Media Terms & Conditions
"I AGREE" (hidden conditions in agreements like agree to auto subscribe after 30 days, agree to make your data available to other parties, agree to sell your data, agree to post on your page, agree to access to your contact list, agree to accept 'push' and 'boost'.)

International Intellectual Property Protection & Infringement
Advertising Promotions (Reg Z)
Independent Contractor Compliance
EMAIL?

FACT  –  Less than 0.00000007% of unsolicited emails end in a Real Estate Transaction.
This means if you send out 1 Million emails, you have less than a 1% chance of getting a sale/listing.
TARGETED or SOLICITED emails are a different statistic.
BENEFITS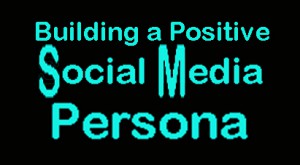 Build a Persona

Twitter to FaceBook post examples
HOW TO USE AND NOT USE HASHTAGS
#RealEstate #Greensboro #NC #FirstTimeBuyer #AffordableHomes
I am excited again today to show #housesUnder100K. First time buyers are so pleased to find affordability.
This tweet generated 23 contacts and 2 sales pending in 10 days
Showed an $86,000 house to a family who thought they couldn't buy – She cried! What a great job I have #RealEstate #NC #DriveRTP
   Staying Relevant
How do you feel about these statements?
* I just hate technology!
* I'm leaving that to the kids!
* I can't do it!
* It drives me crazy!
* I don't understand it!

2.   Real time potential Buyers/Sellers – BACK TO ONE IN A MILLION.
3.   Consumer connection and feedback.
Ask or answer questions to start a conversation.
Be easy to find so people can follow you.
Promote and Like others' posts.
People like talking to REAL people, so be real.
Accept criticism openly and honestly.
TESTIMONIALS
REMARKETING

"AdWerx is the single best marketing dollars you can spend."
Rob McCain, REALTOR Iowa City, Iowa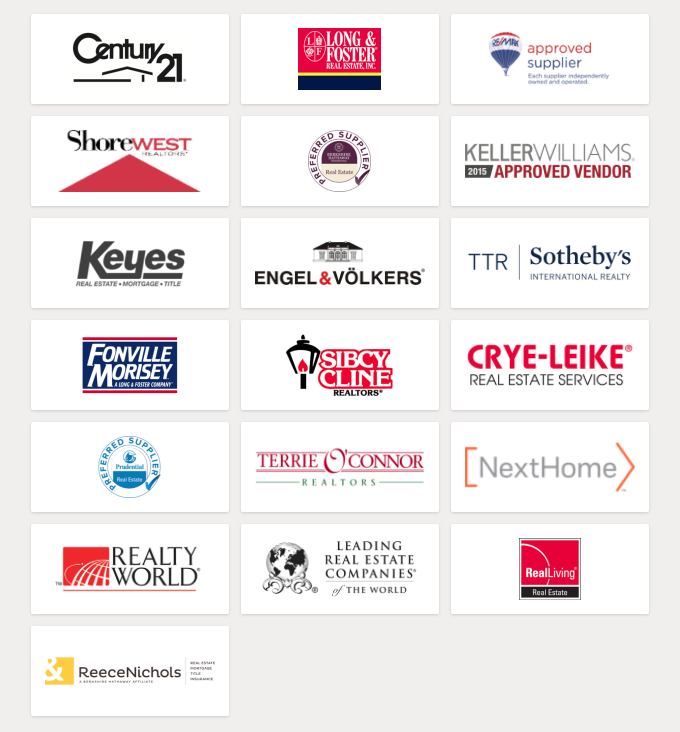 Coursear.Org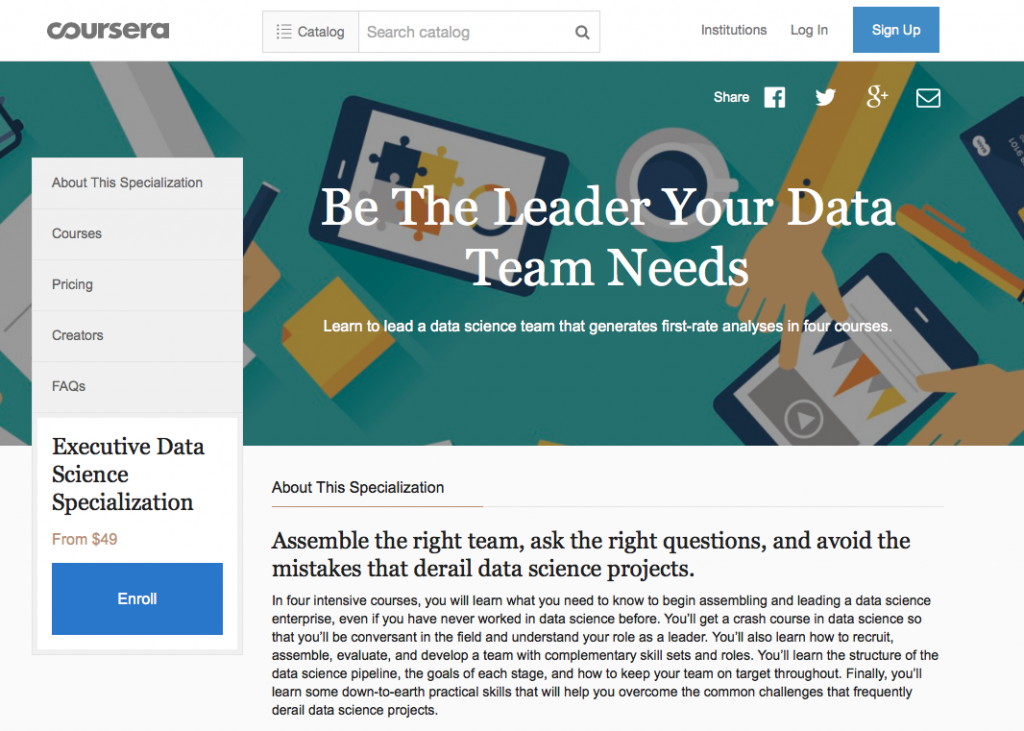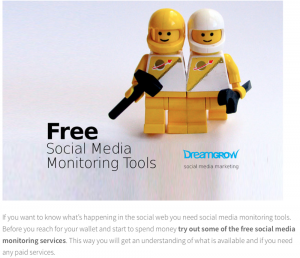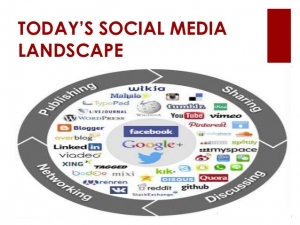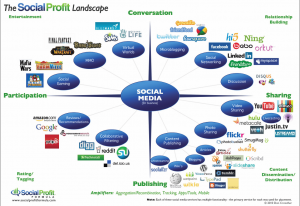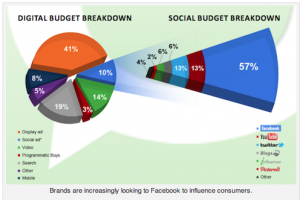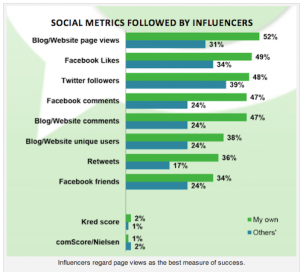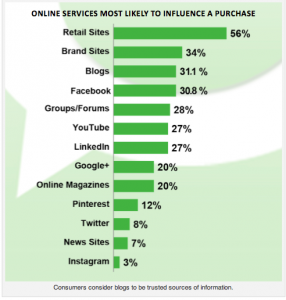 TIME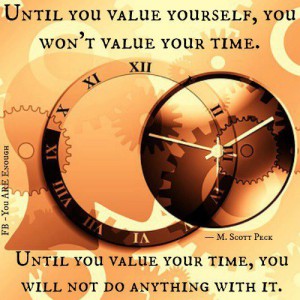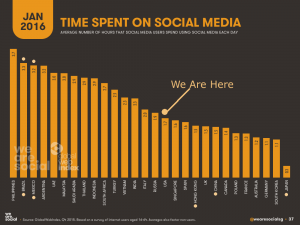 These numbers are increasing at 10% per month.
It's easy to spend 5 hours a day online.
AREAS of CONSIDERATION
HOW DOES THE REAL ESTATE INDUSTRY USE SOCIAL MEDIA?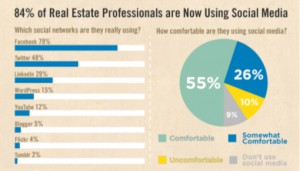 VIDEO

According to Gartner, the world's largest independent Internet consulting firm, "There were more videos uploaded on YouTUBE in the

last Day

 than if ABC, NBC, and CBS had delivered content 24 hours a day, 7 days a week since 1948."
Gartner also projects that by 2017, 95% of all web content will be video. The importance of this to the real estate industry is huge in that we've relied on home photos for over 100 years.
 
720,000 hours per day of video upload!!!
Homeowner/sellers are more aware of the value of video than most REALTORS.
Blogging NOW VLOGGING
Bloggers increase some traffic while Flickr and Tumblr remain unchanged. Pintrest (http://Pintrest.com), where real estate professionals are pinning the custom home décor and features they like, is known to increase blog traffic.
HOT HOT HOT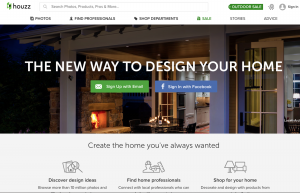 BUT, let's look at VLOGGING. Since Feb. 1, 2013, VLOGGING has increased 600%.
WordPress.com is one of the easiest ways to effectively manage your Website, Blog, and VLOG!
ActiveRain, RealTown.com, REALTOR.com are touted by REALTORS but the public has not noticed.
ZILLOW.com & TRULIA.com, known public go to's, are excellent sites for REALTORS to post links to Blogs, Vlogs, and more.    Take advantage of all their FREE stuff –
SOLD SIGNS, FOR SALE SIGNS, LINKS TO YOUR SITE, PERSONAL PROFILE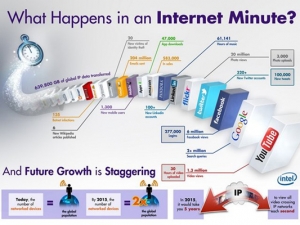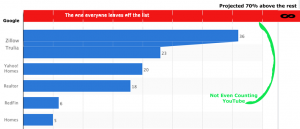 CONSUMER ACTIONS TAKEN
When asked how many homes they looked at before they purchased, the average was more than 50.
Previewing that number of homes would kill the average agent. Understand that when a consumer views a video or 'tours' a home, they believe they have physically seen the property.
"We are NOT in the Business of real estate – We are in the Business of Managing the Perception of the Market." Rossi Speaks
"The best way to engage honestly with the marketplace via Twitter is to never use the words "engage," "honestly," or "marketplace." ― Jeffrey Zeldman
"When you've got 5 minutes to fill, Twitter is a great way to fill 35 minutes – @mattcutts
"Social Media is about sociology and psychology more than technology." – Brain Solis Principle of FutureWorks
"The old paradigm was pay to play. Now you get back what you authentically put in. You've got to be willing to play to play." -Alex Bogusky, Founder CP+B
There's MORE…
Evolutionary Process
 Applying the three parts of the evolutionary process 'dependence', 'independence', and 'interdependence', as discussed in my blog, Evolution of the Real Estate Consumer, validates the 'gaming level' evolution. We have become a society dependent on the Internet. Gamers are those who have sought independence and fun. Mainstream society has actually fought this evolution into games claiming addiction, over involvement, and time consumption. Now it's time to move into the third stage, that of interdependence; that is, acceptance, adaptation, and application of GAMING as a business, education, and training tool.
Gaming Layer
There are more gamers than social connecters. So gaming is only natural as the next layer. It's an age-old adage, if we can't have fun doing what we're doing, we'll have fun doing something else. People want to have fun. As I see it, the 'game layer' is the third part of the evolutionary process and it is predictable.
How Gaming is Used in Real Estate
Prudential Georgia used SCVNGR to create a custom game for their consumers. See the video. SCVNGR is the leader in adapting gaming to business.
In this instance, the game experience used geographic fencing to direct players to a specific area where the GPS in their mobile technology logged them in and gave them the next clue to the next geographic location. The prize for this game was $20,000 toward the down payment of a home.
The real prize was the number of leads, listings, and sales generated for Prudential Georgia.