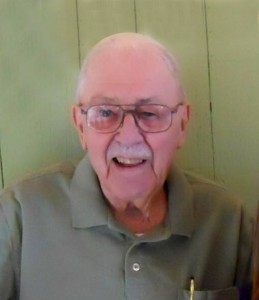 Joe (Joseph Leon) Rossi
Left this world the morning of June 2, 2012 after 89 3/4 – full years of Life.
His family will hold a Celebration of his Light on Earth – Saturday June 9th at 10:33 a.m. at Gate of Heaven Cemetery and Mausoleum corner of Paseo Del Norte and Wyoming Blvd, NE, Albuquerque, NM.  Please bring your fondest memories and join us.
Joe request that you please give flowers to your loved ones, not him because he can't smell them anyway.
Joe now joins Genevieve, his wife and forever love, his mother Sophia, his grandson and namesake Joey, his sister Helen Potnick, his brothers Leon and Bert Bonfadini, and their countless loving lifelong friends. All who, along with St. Peter, have greeted him with hugs and smiles of joy, as he is now free from taxes.
Those left to carry his name, the many stories of his life, and the love he gave us all are:
Son, Jerry & Bobbi Rossi, Granddaughters Romni – Great Granddaughter, Mia, Raleigh, NC, Granddaughter, Alysa & Greg Smith, Phoenix, AZ.
Daughter, Judy & Charles Pascetti, Abq., Grandson, Brian Pascetti, Las Vegas, NV, Granddaughter, Renee & Lenny Cerami, Great Grandson, Silas, Great Granddaughter, Giana, Abq.
Son, Dave & Darla Rossi, Granddaughter, Molly & Josh Krause, Great Granddaughters, Lucia & Sadie, Granddaughter, Devon Rossi, Abq. Granddaughter, Morgan Rossi, San Francisco.
Son, Don & Gloria Rossi, Abq., Grandson, Jeremy & Dani Rossi, Great Grandson, Joseph David (JD), Great Granddaughter, Sydney, Edgewater, NJ.
An Albuquerque resident since 1945, he spent his work life under the Pontiac sign – Chief, then Quality, until he retired in 86'. Currently he resided in luxury at Paloma Landing with the great staff and his many friends.
Joe requested this be short as he said, "They charge too much for an Obit."