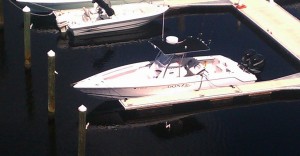 June 30, 2012 we left Sarasota from Jim's place at 6:00 a.m. in his 35′ Donzi "Invictus" to meet the boys at Pop's Marina Lyons Bay, Nokomis, FL by 7:00. Fished Tarpon all morning with no luck so we went to Cabbage Cay for Burgers and headed back to Sarasota.
Fishing was poor because tropical storm Debby had driven all the Tarpon out in the Gulf. I'm never skunked fishing, and this was my birthday trip, so I convinced Jim to stop and let me do a little bottom fishing just South of Sarasota in the Gulf.
In the distance I saw black smoke and asked Jim what he thought it was. "A fire?", he said. Well duh, you think! Just then my line got a bump. Jim then said, "It's probably the Geico boat blowing up doing time trial before tomorrow's race."
"I got a fish Jim!" I shouted. Then the radio begin to chatter, "Mayday Mayday – The Geico boat is on fire in Sarasota Bay!" "Let go help!" Jim said as he kicked Invictus's duel Mercury 400′s into gear. "Wait Jim I got a fish!" "Oh stop it, you just got the bottom again…" My line began to run off the duel drag reel. I gave it a little crank and the second stronger drag took hold. It came up quick and I could tell it wasn't a big one.  Just a Catfish, a quick picture, release, and let's go help Miss Geico.
We arrive before the fire boat but about a dozen boat were at hand and the radio squawk said Pilot and Throttle Man we safe and unharmed. Enjoy the video!